Retail Recap 2017 - The Balancing Act
Date: 01/26/2018
The reality of retail may be more stable than it seems. Recently, on America's Commercial Real Estate Show, REIS economist Barbara Denham, said their numbers actually defy what the media has been saying about retail.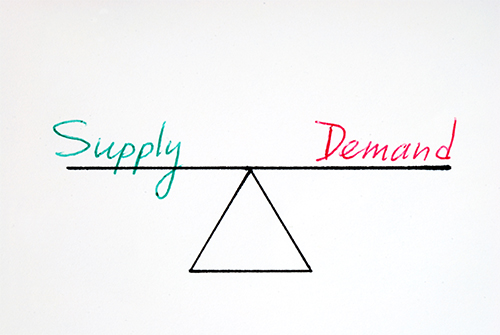 While the national vacancy rate is flat, and some stores are closing, net absorption was positive every quarter in 2017. Tepid new construction, on par with less net absorption in this cycle overall, (compared to previous cycles), has resulted in what Denham calls "tremendous balance" in the retail market.
In Q4, we saw the lowest level of completions since 2013 and the highest net absorption since Q1 2017. New construction totaled 1,479,000 SF and net absorption was 1,852,000 in the quarter. Net absorption in Q4 was the highest since Q1 2017.
Nationally, the retail vacancy rate was flat at 10.0% for neighborhood and shopping centers in the fourth quarter. The mall vacancy rate was also unchanged at 8.3%.
Asking rents are low but still positive, increasing 0.5% in Q4 to $20.85 per SF. The effective rent also increased 0.5%. Asking and effective rent growths have increased 1.8% and 1.9% respectively in the past 12 months. Mall rents increased 0.4% in the quarter and 1.5% over the year, according to REIS' Q4 2017 Preliminary Retail Trends report.
Denham also pointed out that overall statistics may seem "low" because they blend strong markets with weak ones. This echoes the trend we discussed on the Bull Realty blog at year-end 2016, Certain Metros Fare Well in Retail Recovery to End 2016.
But with retail, we must look beyond the numbers and positively performing metros. The changing landscape of retail isn't obvious from statistics alone. REIS goes as far as to say that "retail real estate statistics camouflage the changes in the retail sector."
The main theme of retail today is the new era of tenants. "There is retail demand – it's just changed," said Denham on the show. Out with the big box retailers like Kmart and Sears, and in with the new such as specialty grocery stores and gyms. (In fact, Kmart was the retailer that experienced the most closings in Q4, impacting "more than a dozen metros," according to REIS.) According to a recent report from Morningstar Credit Ratings, LLC, Food Fight – Traditional Grocery Stores Should Benefit From Growing E-Commerce, (whose title alone is compelling): "As the landscape shifts…expects more industry consolidation, with large format stores getting bigger and small-format stores becoming more specialized.
There has also been restaurant growth. Advance estimates of U.S. retail and food services sales for December 2017, were $495.4 billion, an increase of 0.4% from November, and 5.4% year-over-year, reported the U.S. Census Bureau. The restaurant industry added 249,000 jobs in 2017, in line with an increase of 276,000 in 2016, reported the U.S. Bureau of Labor and Statistics.
When it comes to individual metros, Atlanta is one of the strong ones. "Demand for retail in Atlanta continues to be strong and it is easy to understand why. Job creation has outpaced the national average since 2012 and Atlanta has added the fourth most households out of any metro in the country during the last five years," according to CoStar, further predicting that Atlanta retail will continue to be in a better position than the country as a whole. Atlanta remains in the Top 5 markets for annual job gains with 56,000 jobs added in the past 12 months, said Axiometrics.
"Atlanta fundamentals are strong with good job growth combined with historically low retail construction leading to low vacancies and good NOI growth in most submarkets," said Floyd Merritt, V.P. National Retail Group at Bull Realty. 
For the retail sector, there are things to be worried about and things to be hopeful about, said Denham. At Bull Realty, we would go as far as to say when it comes to retail, for everything there is to worry about, there is something to be optimistic about, especially in Atlanta.
Bull Realty Research, Inc.
Michael Bull, CCIM
Show Host
Bull Realty, Inc.
(404) 876-1640 x 101


The Commercial Real Estate Show (TM) is protected by trademark and copyright laws. The information from this site and show is not to be copied, distributed, or sold without express written permission from the Commercial Real Estate Show. Because of the limitations of web sites and talk radio shows, the information from this site and the show are not to be relied upon as professional, accounting or legal advice. The show information is for enlightenment and entertainment purposes only and is not deemed reliable for your particular property, situation or location. Consult a referred and licensed commercial broker, accountant & attorney who has entered into a representation agreement with you and knows all the details of your location, property and situation for professional advice. For a professional referral contact the Commercial Real Estate Show at Info@CREshow.com or 888-612-SHOW (7469). All rights reserved. (C) 2014