Demand Driving the Multifamily Market
Date: 01/16/2018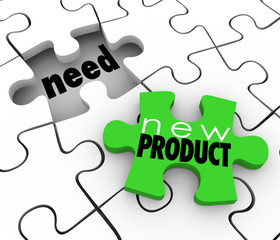 The deluge of new supply has finally had an ever-so-slight impact on multifamily vacancy rates. The national vacancy rate increased 10 basis points for the second quarter in a row to 4.5%, a 30-basis point increase year-over-year, according to REIS' Q4 2017 Preliminary Apartment Trends report.
"With supply growth outstripping demand, vacancies were pushed upwards this quarter," said Victor Calanog in the REIS report. Fifty of the seventy-nine metros REIS surveys saw an increase in vacancy.
On par with the past couple of years, new construction totaled 43,769 units in the quarter, raising the year-end total to 213,802 units. Prior to 2015, the national apartment market had not seen new completions over 200,000 since 1986. New completions totaled 209,346 in 2015 and 219,805 in 2016.
While new construction is in line with the past couple of years, U.S. net absorption was 31,554 units in Q4, bringing the total for 2017 to 171,835 units, (down from 213,911 units in 2016 and 201,745 units absorbed in 2015).
Keep in mind, a slight increase in vacancy was to be expected after all this time. The minimal increase of 20 basis points over the last half of 2017 is in line with REIS' prediction that there will not be a spike in vacancy rates.
For the year, asking rents increased 3.9% and effective rents increased 3.3%. In a recent report, RealPage's chief economist, Greg Willett said that while apartment rent growth pace has slowed compared to the breakneck pace of 2015, "it's the longevity of the current cycle that's so impressive."
In Q4 2017, the average asking rent grew 0.4% and effective rents, (which net out landlord concessions), grew 0.3%. The minimal disparity between asking and effective rents is an indicator that landlord concessions are "less aggressive – implying that demand remains relatively robust," according to REIS. Essentially, demand isn't going anywhere. The national average asking rent is $1,364.
The multifamily market is intrinsically tied to the housing market. Recently, on America's Commercial Real Estate Show, Mitch Roschelle, Partner and Real Estate Practice Leader with PwC, addressed the concerns that new laws passed as part of the Tax Cuts & Jobs Act could negatively impact the housing market.
Specifically, since mortgage interest deductions are now capped at $750,000, the standard deduction for joint filers has been doubled and the property tax deduction is going to be capped at $10,000, some say that the tax incentives of buying a home aren't there anymore. (A full review of the bill can be found on this Bull Realty blog post.)
Roschelle has a "contrarian view" that is keeping with the demand theme. He said since we are forming households at a greater rate than we're adding to supply, for both single family and multifamily, that there are 3.5 million individuals with "pent-up demand to really drive the market."
And let's not forget that jobs are also a driving force for multifamily. The U.S. economy added 148,000 jobs in December, the 87th consecutive monthly gain, according to the U.S. Bureau of Labor Statistics (BLS). "The unemployment rate remained at 4.1% for the third straight month and was 60 basis points (bps) lower than December 2016's rate," reported Axiometrics.
Atlanta is an all-star on the job front. The metro has consistently appeared in the Top 5 annual job gains markets and is currently 4th with 56,000 jobs gained over the last 12 months. Atlanta is 5th in the U.S. for annual effective rent growth with a 5.6% increase in effective rent year-over-year. The metro saw a 0.8% effective rent growth in Q4 2017 and the average effective rent is $1,057, according to REIS.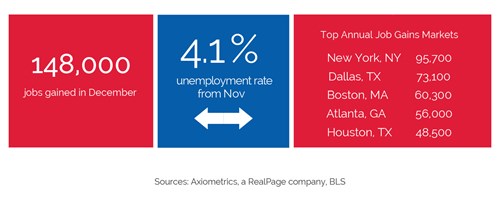 Atlanta also ranks among top markets for most planned multifamily units and number of units under construction. The metro is 7th in the nation for most planned multifamily units with 8,691 planned units. "There are 24,276 units under construction currently—the 5th highest amount in the nation," according to The National Real Estate Investor.
Nationally, REIS predicts that even if supply levels continue to increase, continued positive job growth in 2018 alone will maintain a steady demand for new apartments.
The heyday may be over but multifamily still has solid fundamentals overall and demand will keep the multifamily market in check.
Bull Realty Research, Inc.
Michael Bull, CCIM
Show Host
Bull Realty, Inc.
(404) 876-1640 x 101


The Commercial Real Estate Show (TM) is protected by trademark and copyright laws. The information from this site and show is not to be copied, distributed, or sold without express written permission from the Commercial Real Estate Show. Because of the limitations of web sites and talk radio shows, the information from this site and the show are not to be relied upon as professional, accounting or legal advice. The show information is for enlightenment and entertainment purposes only and is not deemed reliable for your particular property, situation or location. Consult a referred and licensed commercial broker, accountant & attorney who has entered into a representation agreement with you and knows all the details of your location, property and situation for professional advice. For a professional referral contact the Commercial Real Estate Show at Info@CREshow.com or 888-612-SHOW (7469). All rights reserved. (C) 2014