Concern for Retail is Overstated
Date: 05/11/2017
U.S. and Atlanta Market Update
For the retail sector in 2017, the adage "the more things change, the more they stay the same" rings true. In the first quarter, the retail vacancy rate of 9.9% remains unchanged from Q1 2016 for neighborhood and community centers. The gap between asking rents and effective rent growth remains low, fluctuating between 0% and 0.1% over the past two years. The national asking rent is $20.55 per square foot, a 0.3% increase in the quarter. (National effective rent increased 0.4%.) And, construction was the lowest since 2011, at 796,000 SF for the first quarter.
For retail, the lack of new construction is a friend, not a foe. In REIS' Q1 2017 Retail Trends report, Barbara Denham said in "sharp contrast" to multifamily, developers have learned their lesson on overbuilding retail space during expansion. "This has kept a lid on rising vacancy rates," she said. Just like in Q4 2016, 25 of the 77 metros that REIS tracks saw a vacancy rate increase in the first quarter.
Looking at the statistics, the fears over store closures affecting the retail sector seem largely unfounded. "Store closures are not significantly impacting overall statistics as new retailers fill space," said Denham. Mall vacancy rose 10 basis points in the quarter to 7.9% and asking rents increased by 0.4% in the quarter.
If no news is good news on the retail front, there's plenty of good news when looking at the economy. The most recent estimates from the U.S. Census Bureau indicate retail sales in March 2017 were $471 billion, a 5.2% increase from March 2016. The Conference Board Consumer Confidence Index® which increased dramatically in March and now stands at 125.6 (up from 116.1 in February) and its highest level since December 2000.
The job market is also doing well, both generally and specific to retail. Preliminary data from the Bureau of Labor Statistics shows that U.S. employers added more than 2.3 million jobs in the past 12 months (ending January 2017), growing the country's employment base 1.7%, reported MPF Research. Nationally, 98,000 jobs were added in March and the unemployment rate declined to 4.5%. Together, the retail and restaurant industry has 383,600 more jobs (1.4%) than it did last year.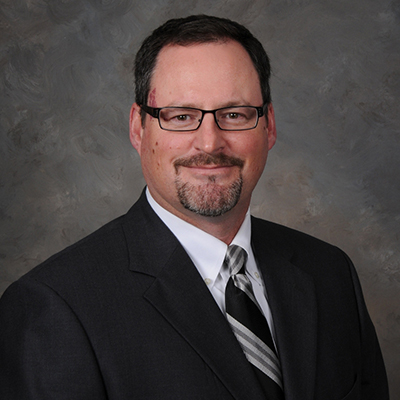 In Atlanta, retail isn't slowing down, it's just getting started. Atlanta is still Number 3 nationwide for jobs gained in the year-ending January 2017, with 99,700 jobs gained in the past 12 months. "Atlanta continues to lead most metros with absorption exceeding deliveries, good rent growth and declining vacancies. Some of my clients are deciding this is an excellent time to sell," said Floyd Merritt, V.P., National Retail Group at Bull Realty.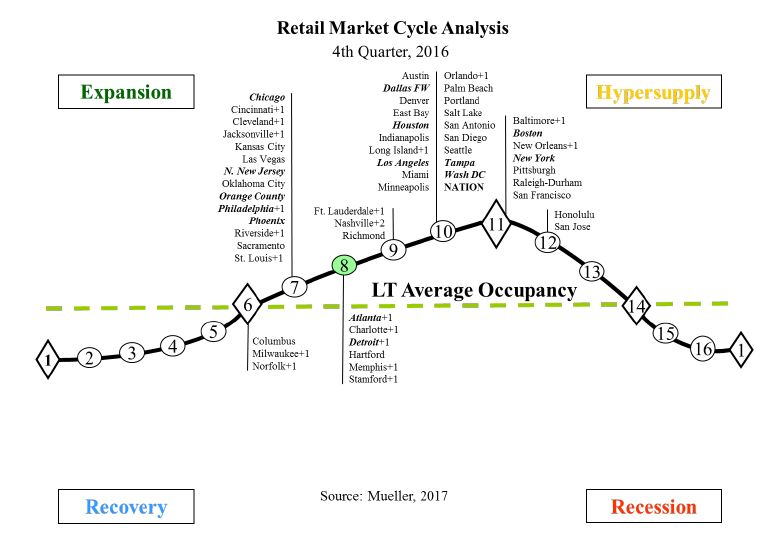 A recent report from Dividend Capital Research indicates that Atlanta is ramping up into the beginning of the expansion phase. Atlanta is considered one of the 14 largest retail markets nationwide according to the same report. Integra Realty Resources categorized Atlanta as at the end of the recovery phase in their Viewpoint 2017 report.
In Q1, Atlanta saw 0.6%, effective rent growth in Q4 for an average effective rent of $16.17. Vacancy declined very slightly by 10 basis points in the quarter and 60 basis points since Q1 2016 to 11.0%. Atlanta was 11th for annual asking rent growth at 2.6% and 13th for annual effective rent growth at 2.7%.
Overall, the U.S. outlook for neighborhood and community centers is still "cautious," and "the demise of retail real estate has been somewhat overstated," according to REIS.
Statistics still vary from metro to metro, but it's safe to say there is no slowdown in Atlanta's foreseeable future.
Bull Realty Research, Inc.
Michael Bull, CCIM
Show Host
Bull Realty, Inc.
(404) 876-1640 x 101